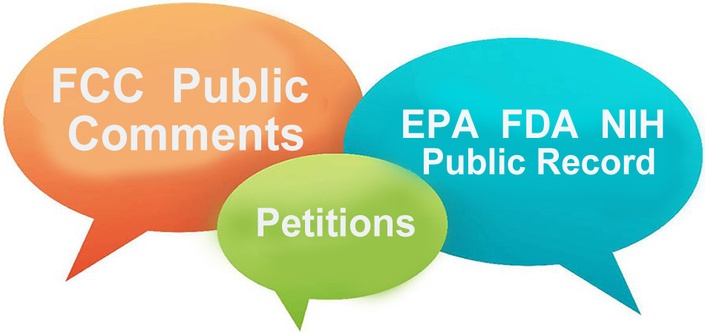 Concerned Citizen Action
The Essential Keys to Effective FFC Public Commenting and Petitioning Key Government Agencies
Concerned Citizen Action: The Essential Keys to Effective FCC Public Commenting and Petitioning of Key Government Agencies
EMF Experts Detection and Protection Training by R. Chris Young, Professional Electrical Engineer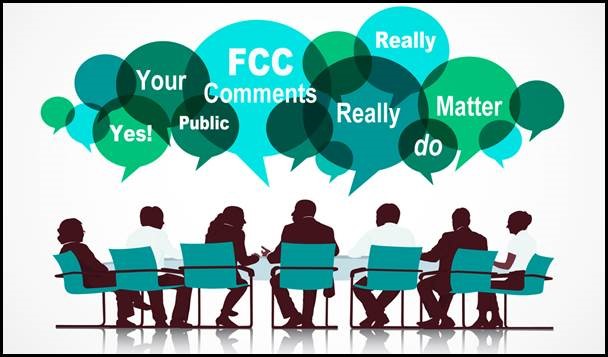 The importance of submitting your comment to government agencies that must publish a request for public comment as part of a public record, cannot be overstated because it is, in effect, the call for public comment is your government asking YOU for your direct input, which will become part of the public record regarding the decisions those agencies, like the FCC, are making on your behalf as a result of public dialog.
However, far beyond that "self evident truth", the overriding importance of submitting effective comments to the FCC cannot be overstated since many a noble EMF Safety Advocate Group has submitted hundreds of pages of heart rendering public comment only to have it instantly dismissed and thrown on the heap with the hundreds of other public comments that did not follow the instructions for submitting comments.
For years, all the while the FCC has been making decisions and changing rules when it comes to expanding wireless communication, countless well-intended EMF safety advocates have tried and failed to get their public comments to bear any weight on the FCC decision making process because they don't know how to follow instructions, or they would follow the instructions if they could if they only understood them.
Submitting Your Public Comment is critical to managing the deployment of 5G in ways that are lawful, healthful, and responsible!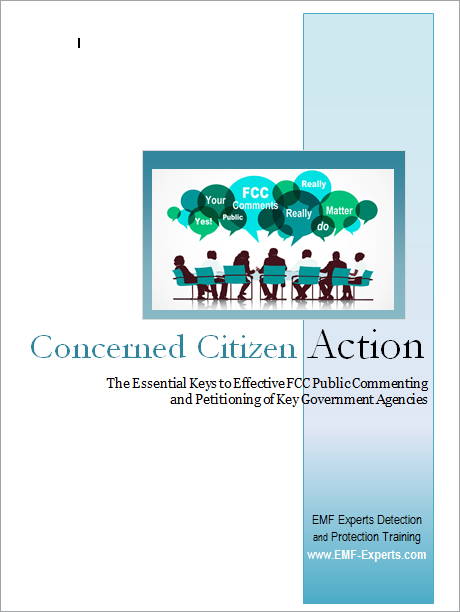 This essential 55 page guide is download-able and printer friendly for handy future reference as government agencies publish new proposals seeking public comment, it it will guide you step by step through the art of science of effective commenting, and here is an overview of the many topics that will be covered.
TABLE OF CONTENTS
Public Record
The Importance of Public Comments to Notice of Proposed Changes (NPRMs)
Rule One – to get a public comment to be considered at all it first must be correctly submitted.
Correctly Submitted Timing Correctly Submitted Procedure
These are the official FCC sites to submit Public Comments on FCC filings and proceedings:
Rule Two – know what the FCC is asking for in order to submit a relevant comment.
The Relevancy of the Title
The Relevancy of the FCC Document Content The Irrelevancy of Submitting Studies
FCC Offers Two Opportunities for Public Comment Standard Filing Comments
Examples of Effective Standard Filing Comments Blake Levitt,
Cynthia Franklin, Dr Joel Moskowitz,
Express Public Comments
Examples of Effective Express Comments:
Example 1: FCC Procedure
Example 2: Publishing All Comments
Example 3: Clear Public Instructions
Example 4: FCC Real Need
What Goes on in the Mind of the FCC?
How The FCC Decides What to Do with Public Comments
We the People
Petitioning the Government
How to Submit a 5G Petition Directly to the Government that gets a Response Start Your Own Petition
Submit a Comment Directly to Your Elected Official
Publically Comment Directly to the Government Agency Responsible
Understanding NPRMs
Key Things to Realize about any Government Notice of Proposed Changes Typically the Notice of Proposed Changes go through these stages:
Our goal as an "NPRM commenter"
ALL comments that are submitted enable the FCC "create a record", Submitting Standard Filing Comments for Docket 19-226
Dissecting this Important Docket LEGEND for Docket 19-226
The Point of Paragraph 120
The Point of Paragraph 121
The Point of Paragraph 122
The Point of Paragraph 123
The Point of Paragraph 124
The Point of Paragraph 125
The Point of Paragraph 126
The Point of Paragraph 127
The Point of Paragraph 128
The Point of Paragraph 130
The Point of Paragraph 133
The Point of Paragraph 134
The Point of Paragraph 135
The Point of Paragraph 136
The Point of Paragraph 139
The Point of Paragraph 140
The Point of Paragraph 141
The Point of Paragraph 143
The Point of Paragraph 144
The Point of Footnotes 36 to 42
Comment Writers
Professional Comment Writers are in High Demand
Submitting public comment to the FCC and Other Key Government Agencies related to EMF safety.
The Growing Need for FCC Comment Writers Helping EMF Safety Advocates be Heard Examples of Effective Standard Filing Comments:
Useful Resources
Additional Safety Advocate Support Related Articles
Downloads: eBooks and Publications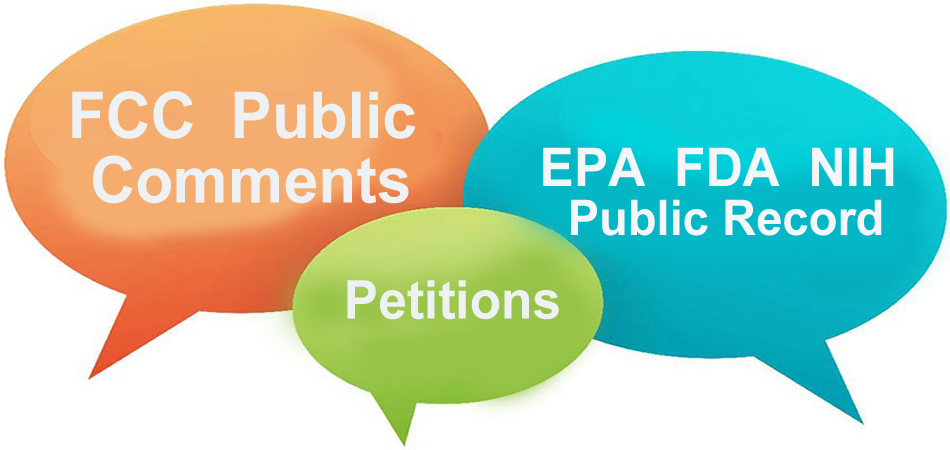 This easy to follow, must-have Guide will show you how to submit Public Comments that Really Make a Difference! This guide will help you submit your comments and by heard and taken seriously by the FCC and other key government agencies that impact EMF Safety.
With 5G now beginning to blanket our cities, laws being changed to hasten it, and the very high stakes of installing 5G without any biological health testing, the concerned informed voice of the average citizen has never been more important. This really is a "Speak now or Forever hold your Peace" situation.
Your Instructor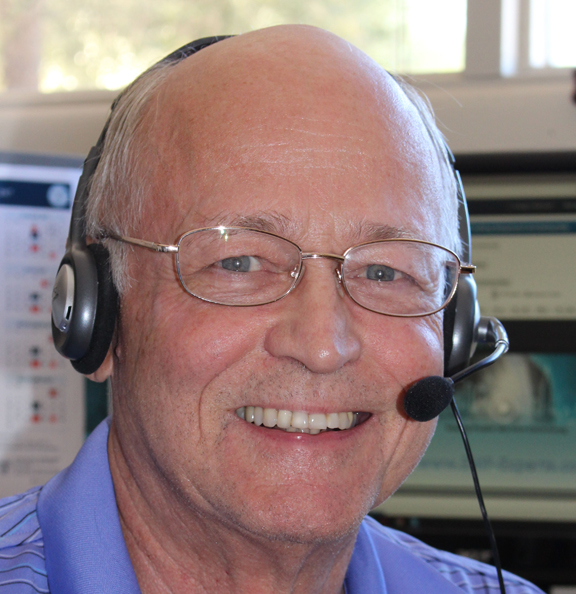 Senior Professional Electrical Engineer
Founder: EMF-Experts.com

I am the Founder of EMF EXPERTS and I personally stand behind each training course that we do here at EMF Experts, where we are dedicated to the highest professional standards in observance of our mission statement and guiding principles. I'm a Professional Electrical Engineer in the USA; at various times in my career I have held professional engineering licenses in nearly every state in the nation and I've also headed up organizations in over 20 countries.

Course Curriculum
Concerned Citizen Action
Available in days
days after you enroll
Frequently Asked Questions
When does the course start and finish?
The course starts now and ends when you request your Award of Completion (your diploma-looking certificate will be delivered to you online automatically upon request at the end of a course) It is a completely self-paced online course - you decide when you start and when you finish, and you have 4 months to complete reading the course content, viewing the videos and downloading the resource material.
How long do I have access to the course?
After enrolling, you have unlimited access to this course across any and all devices you own for four months. You can enroll in one course at a time, or enroll in several at the same time. If you need longer than the allotted course time to complete the trianing, just bounce us an email with your extension request.
What is You Customer Satisfaction Policy?
We have designed this classroom to enable you to "try before you buy", and that is why we have made several FREE courses available for you to try out our learning platform, to get to know us and experience the quality of our training content. No refunds are offered for paid-for courses once they have been started, however we will work with you to make sure you have an excellent learning experience, and if you need an extension to complete the training due to unforeseen delay, we are happy to accommodate you to provide whatever learning time you need.