Coming June 2019

Pre-Enroll Now at Half Price!

COURSE DESCRIPTION

This Self-Guided EMF Meter Video Training teaches you how to detect EMF in your environment, measure it correctly, and interpret the reading accurately, with the most convenient course of all the training courses we offer, and also the least expensive. Developed especially for those who want quality specialized training from a world recognized electrical engineer with a solid career background in EMF Safety, but prefer to learn online, at their own pace, on their own convenient schedule.
PLUS, completing this training will qualify you to begin generating income right away! Once you have completed this self guided training you will receive an Award of Completion (for display on your website, blog etc.) that indicates your fine achievement, and qualifies you to join our generous online affiliate program that rewards you for your online referrals to others who are interested in acquiring highly respected EMF Meter Training.
EVEN BETTER, 50% of the cost of this self guided course can be credited towards tuition for EMF Expert Consultant Certification training (taught live online), should you later wish to attain respected professional credentials for EMF Detection and Protection Consulting (within a year).
WHAT DOES THE COURSE CONTENT COVER?

This self guided training sets out to make an EMF meter simple to use, easy to understand and practical in assessing the EMF exposure levels from wireless technology (celltowers, cellphones, WiFi, 5G and more) added to all the fields of electrical and magnetic smog that you and your family are impacted by on a daily basis.
Most meter marketing rhetoric on the web, and unqualified meter training, leaves you more frustrated than when you started. Meters can be confounding if you do not know what the information in your user manual means or how it applies to real life situations, and meter readings can be confusing if you don't have a solid foundation of knowledge built on an understanding of what EMF actually is, how it behaves, and some practical know-how about the scientific laws that it obeys.

Using video demonstrations, instructive photos of real-world EMF situations, and the guidance of a world respected electrical engineer who leads you step by step in everyday English, this respected EMF Meter training consists of the three key components to mastering correct meter use:
1. Understanding Your EMF Meter User Manual: Vital Info that Can Help Your Meter Perform up to its Potential and Make You a Better Meter User

2. Visualizing EMF Behavior: Applying the Laws of Physics with your Trained Mind's Eye to Achieve More Accurate Measuring Skill

3. Hands-On EMF Meter Measurement Taking and Display Readings Interpretation: Detecting and Measuring EMF Correctly with your Meter and Interpreting Accurately What Your Meter is Telling You.

BONUS TRAINING CONTENT:
What's Next?
What Meters make great 'Next Steps' based on your individual circumstance; how to determine what meter(s) you need as you advance in metering skill. What EMF situations are beyond the scope of beginner consumer grade meters. What EMF exposure levels require further training or the help of an EMF Professional.
WHAT'S INCLUDED IN THE METER START UP KIT?

1 TriField TF2 Meter to measure Electric Fields, Magnetic Fields, Radio/Microwave Fields, Average Field Strength, Peak Field Strength, Dirty Electricity (Weighted & Standard), EMF Field Strength Audio Sounds

1 MultiMeter to measure body voltage (this 'multi' meter is capable of measuring multiple electrical characteristics however we focus only on body voltage)
1 Line Noise EMI Meter to measure Electric Magnetic Interference (Dirty Electricity) on Electrical Wiring
1 Compass to measure Static Magnetic Fields
1 Electrical Receptacle & Ground Tester tests for Faulty Wiring

1 EMF Meter Protective Carrying Case to keep all your meters handy, safe and secure.

Please Note: Some details in the photo illustration (such as colors, models, etc) may change due to unavailability, however the quality and function of each instrument in the kit will remain of equal or greater value.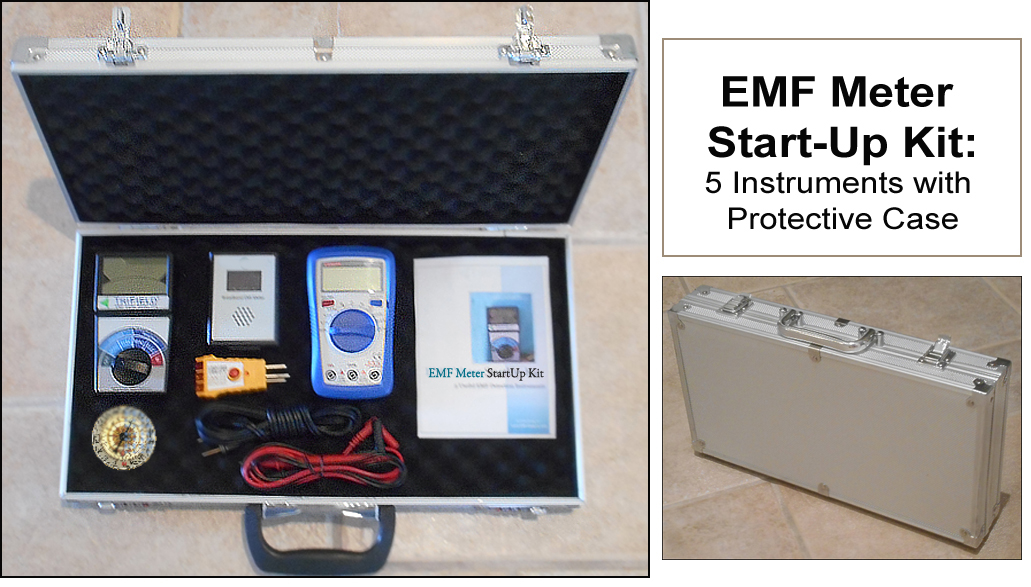 ENROLL TODAY AT 50% OFF (INTRODUCTORY OFFER FOR THE MONTH OF MAY)

Contact Us and Request to be Notified when this Course goes LIVE in JUNE.